Is Your Pizza Dough Too Sticky? – Everything You Need to Know
If you are just learning how to make pizza dough, one of the biggest challenges you will face is dough that is too sticky. It will stick to your hands, to the pan, or to your countertop. We, out of all people, know how frustrating this can be. 
If you are experiencing the above, don't get discouraged. There is a reason your dough is turning out too sticky and, in most cases, there is a way to fix this. 
Keep reading to learn how to rid yourself of this sticky business.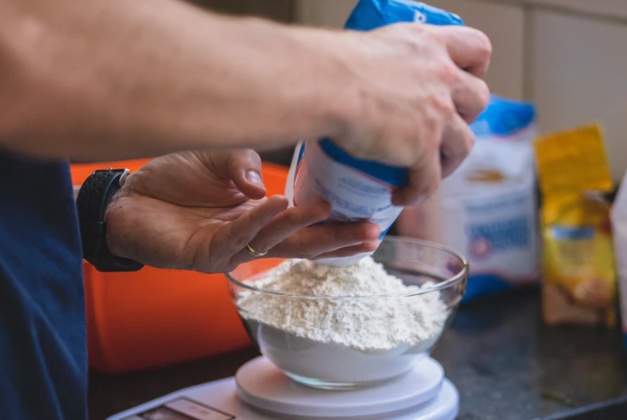 What Makes Pizza Dough Sticky?
Making a perfect batch of pizza dough is difficult – especially for a beginner. Mastering the art of dough making takes time, patience, and lots of practice! There are many factors that affect the consistency of it and learning how to control these factors is key to amazing pizza dough. 
Reasons for sticky pizza dough could be a result of any of the following:  
You're Not Using the Correct Water/Flour Ratio  
Let's start with the type of flour being used. Most recipes are not specific to what type of flour you should be using. However, the type used will determine how much water you need. A strong flour like Italian 00 offers a high gluten content and will be able to absorb more water. 
What does this mean? It means that the amount of water you need depends on the type of flour you use. You always want to use 60% of the water required in a recipe. If you notice your dough is too rough, add more water in small quantities. 
Solution: Regardless of the type of flour you use, add water in small quantities. You don't ever want to add the full amount as required on the recipe – especially if the recipe you're using isn't specific on the type of flour that needs to be used.
Too Much Water is Being Used 
Hydration goes hand in hand with the type of flour used. Dough hydration refers to the amount of water the dough contains compared to the flour. The higher the hydration, the stickier the dough will be. A hydration of 60-75% hydration is recommended. If you go any higher than this, your dough will be sticky, and you'll need to add more flour.
Solution: Using too much liquid within your dough will cause it to become wet and tacky. If you find that you've used too much water, add more flour until you achieve the right consistency. 
The Temperature of the Water is Too Cold
Every pizza recipe will call for warm water. This is important because warm water is necessary to hydrate the yeast properly. This will cause it to release glutens – the ingredient responsible for creating the bonds that hold all the ingredients together. 
Using cold water will cause the gluten to leak out making the dough soft and sticky. This is the only problem you can't reverse. So, always make sure to use warm water.
Solution: Unfortunately, there is no solution when you use water that is too cold. In this case, you'll have to start over. 
You're Not Kneading the Dough Long Enough 
Kneading your dough thoroughly is essential to getting that fluffy crust. Not mixing it long or well enough will cause it to be gummy or sticky. Therefore, take your time with the kneading process and add water/flour as you see necessary. Check out this guide on how to properly knead your pizza dough. 
Solution: This is an easy fix. If your dough has not been mixed well enough, simply toss it back into a bowl and start the kneading process. You'll know it's ready once it's smooth, spongy, and no longer sticky.
How to Prevent Pizza Dough from Becoming Sticky  
The best way to avoid sticky pizza dough is to avoid making it sticky in the first place! When you prepare your dough, start by using warm water and mixing the ingredients thoroughly. Don't use the entire amount of water from the start. Use only about 60% of the amount called for in the recipe. Add water as needed. 
While kneading the dough, avoid tearing the dough. Instead, roll it, press it down, and stretch it. How you knead the dough will have an impact on how it turns out. And finally, make sure you knead it thoroughly. If you notice you have added too much water, add some flour (and vice versa). Getting the perfect amount of flour and water takes time and practice. But once you get it down, it will become second nature. 
Final Thoughts
With this information, avoiding stickiness in pizza dough will be easy. Best of luck to you and be sure to browse through our website for tips, tricks, top pizza products on the market, and more!